In an increasingly digital world where consumers have virtually unlimited options when it comes to choosing who to do business with, it pays to invest in your customer experience. In fact,  according to a 2020 Salesforce survey, 79% of consumers believe that the experience a company provides is as important as its products and services.
If you're looking to upgrade your customer experience in 2022, we have good news – UJET recently introduced flexible pricing options for small and medium businesses! Plus, UJET customers can now:
Conveniently purchase

UJET solutions

directly through the ujet.cx website with a credit card;

Take advantage of UJET's

'pay-as-you-go'

usage-based pricing, or opt for traditional seat-based pricing; 

Use the telecommunications provider of their choice with UJET's "Bring Your Own Carrier" option, or leverage UJET's global voice infrastructure; and  

Purchase UJET's Award-winning CCaaS 3.0 solution through a limited-time SMB promotion at $39 per seat for the first 25 users.
Why choose UJET as your CCaaS provider?

The limitations of traditional CCaaS technology combined with a change in how consumers engage has left the customer journey more fragmented than ever. With the rise of the smartphone and the growing number of digital touch points, "cloud native omnichannel" is no longer enough.

With UJET, you can offer your customers a unified journey through an embedded, contextual experience across sales, marketing, and support. Blend channels as needed without losing context, integrate customer support into your website or app, and deliver more natural experiences with a single source of truth across all of your customer interactions.
How to build your custom contact center with UJET
Want to experience the full power of UJET before you commit to a full contact center migration? 
Create your own customized contact center package in less than 48 hours with these 8 simple steps: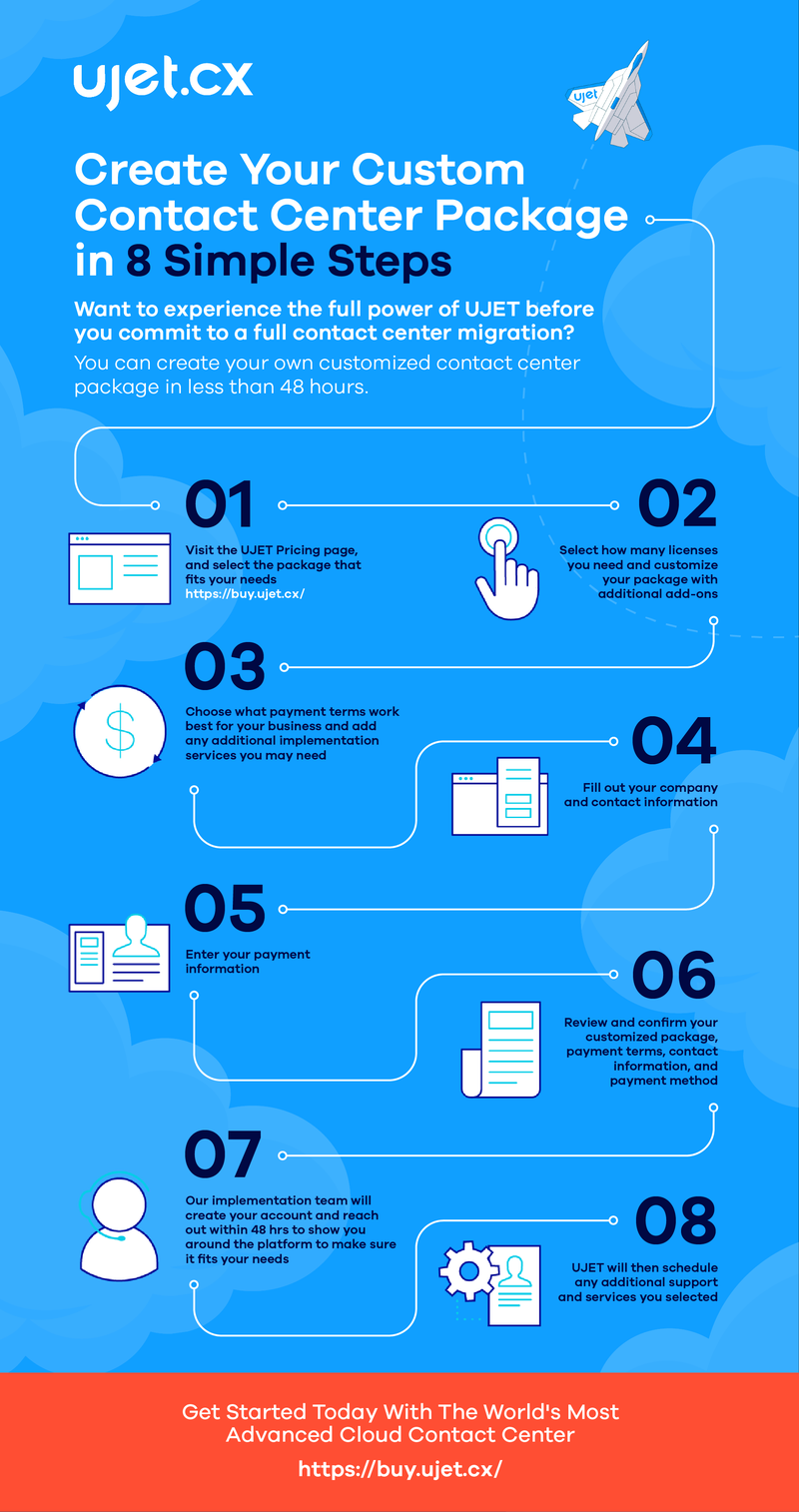 Step 1
Visit the UJET Pricing page, and select the package that fits your business' needs. We currently offer 4 packages:

- Basic: Includes Voice (PSTN), Standard Reports & Dashboards, CRM Adapters, Web SDK, Standard Support, and Single Sign-On (SSO).
- Pro: Includes all of the features in the Basic package, plus SMS blending, Mobile SDK, Advanced Reports & Dashboards, Reporting APIs, and Premium Support.
- Enterprise: Includes all of the features in the Pro package, plus all Core channels, secure payment by Stripe, and Optimization Support.
- Digital: Includes Web & Mobile SDK, Web & Mobile Chat, SMS, Voice (In-app), SmartActions, Advanced Reports & Dashboards, Reporting APIs, and Premium Support.

Need help deciding what package is best for your needs? Book a demo to get expert advice on how to maximize your CX budget.
Step 2
Select how many licenses you need and customize your package with additional add-ons. For example, if you need some of the Enterprise features but not all of them, you may decide to choose the Basic or Pro package, and then select additional add-ons like Voice (PSTN), Chat, SMS, or Secure Payments as needed to build your perfect contact center. 
Step 3
Choose what payment terms work best for you and add any additional implementation services you may need. Pro Tip: While you're free to choose either an annual or a monthly billing cycle, you'll receive a discount if you choose to pay annually.
Step 4
Fill in your company contact information, including your work email address, your company's name, your job title, the number of employees at your company (note: this number may be different from how many UJET licenses you are purchasing), a phone number UJET can use to reach you, and your company billing address.
Step 5
Enter your credit card information. You will not be charged until you review and confirm your purchase.
Step 6
Review and confirm your customized contact center package, payment terms, contact information, and payment method. You're done!
Step 7
At this point, our implementation team will create your account and will reach out within 48 hrs to show you around the platform to make sure it fits your business' needs
Step 8
The UJET team will schedule any additional support and services you selected with your package. Starter Implementation is included free of charge with all packages, but you may choose to upgrade to SMB+ or Premier if you need additional support.


Ready to revolutionize your customer experience? Explore UJET subscription options or request a demo to learn more.