Experience the Industry's Highest Call Quality
Reduce operational costs, deliver personalized customer service, and streamline your customer service journey with a VoIP contact center solution that transcends omnichannel. Enjoy consistent, reliable service with over 99.95% uptime and localized, low latency audio quality anywhere in the world.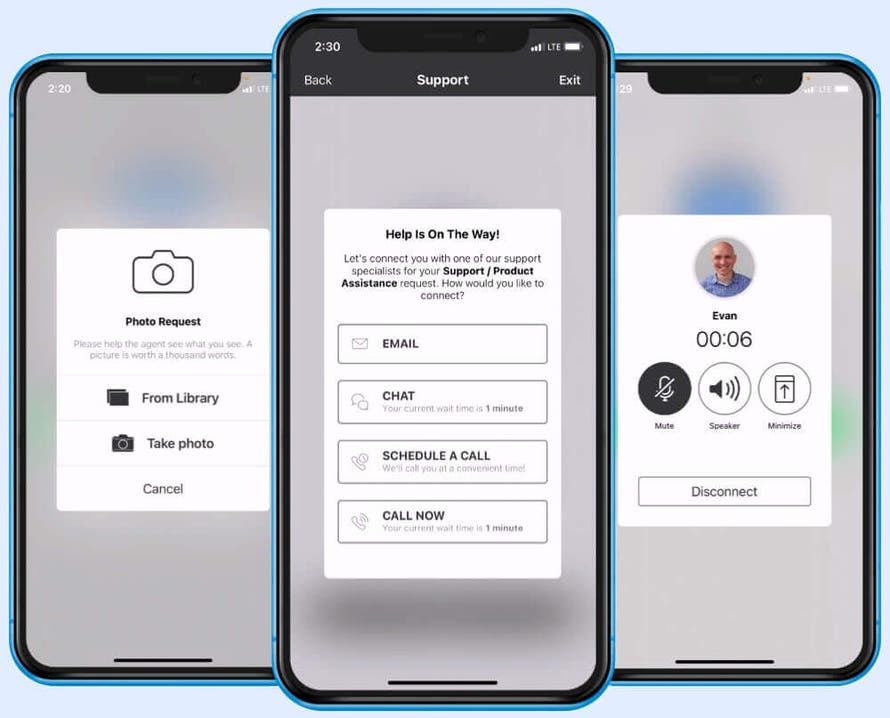 UJET Voice Features That Deliver an Optimal Customer Experience
Resolve Customer Issues Faster
Consumers want to communicate with your customer service agents the same way they do with their friends and family, and voice is the number one channel of choice for customers who need urgent assistance.
UJET enables your agents to have more natural conversations with customers, enriched with photos, videos, screenshots, and text input. Use the power of the smartphone to have a real conversation, authenticate customers with a passcode or Face ID, gather information quickly, and build lasting customer relationships.
When customers call into your contact center, UJET helps you resolve their issues quickly.
PSTN and In-App calling features make it easy for customers to contact you when they need help.
Channel blending makes hold time productive by gathering issue and account details over SMS.
Automatic ticket management, agent notes, and codes reduce post-call handling time by eliminating the manual effort required to create and update records.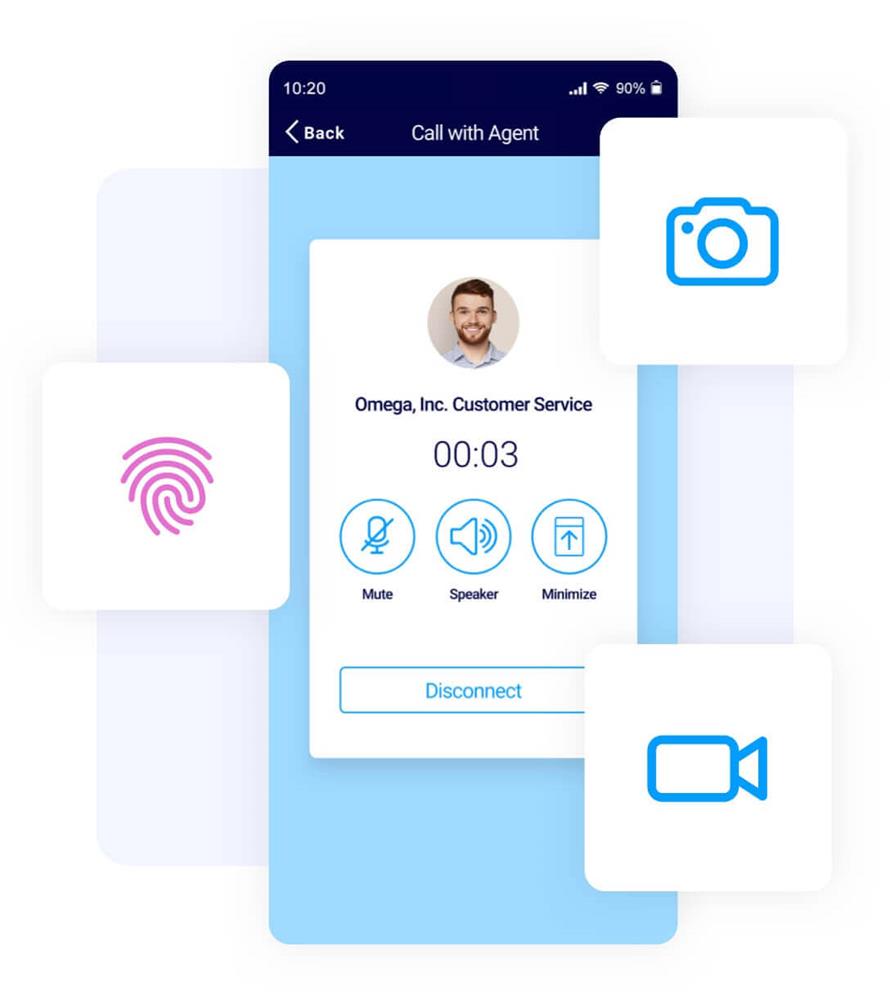 Understand Your Customers Better
Delivering personalized experiences requires customer context. With data automation included throughout the agent experience, UJET records granular details about the customer and their journey within the CRM record and delivers that context to agents with each customer interaction.
UJET's unique real-time data exchange with your CRM presents customer data to the agent immediately upon call connection and automatically records call details in the customer record.
Metadata, such as customer location, app version, and device type, is delivered with the call to empower agents with more information.
SmartActions allows agents to request additional information from the customer while on the call with text, photo, and payment input.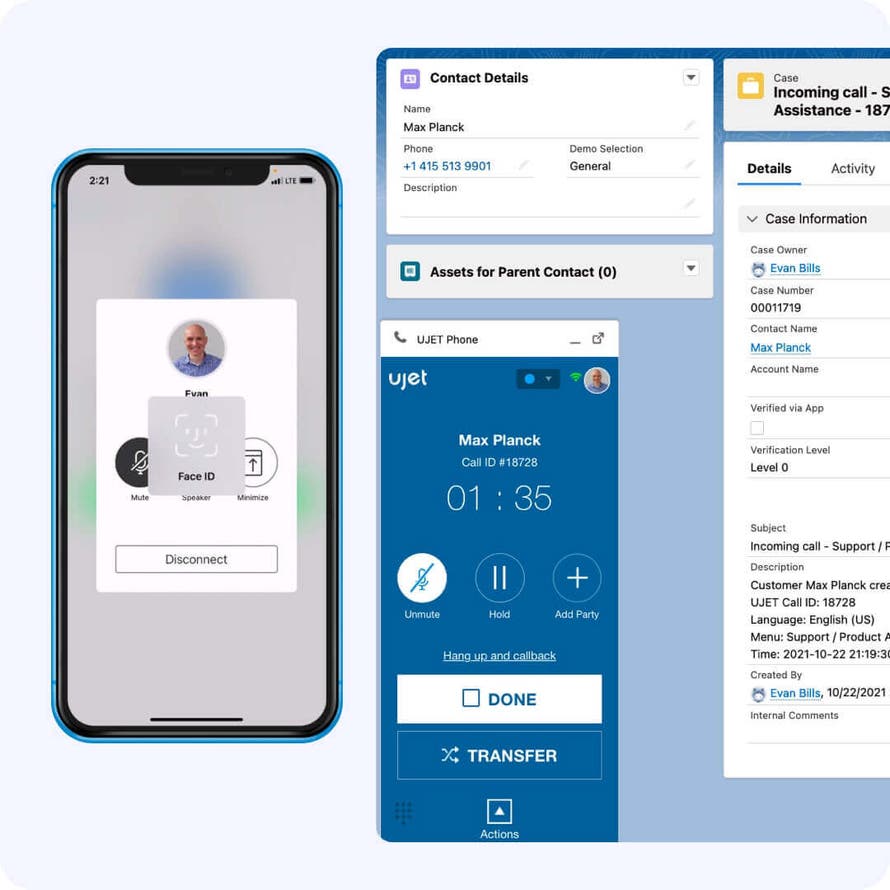 Manage Call Routing Intelligently
Improve call queue management with UJET's ACD contact center solution. Route calls based on contextual data and customer intent, rather than simple skill to IVR menu matching.
Intelligently connect customers to the best agent based on contextual data from your CRM.
Advanced queue management offers unlimited queues, powered by actionable data insight, to route customers to self-service solutions or directly to an agent.
Scheduled callbacks reduce wait times and improve the customer experience.
Learn more about UJET IVR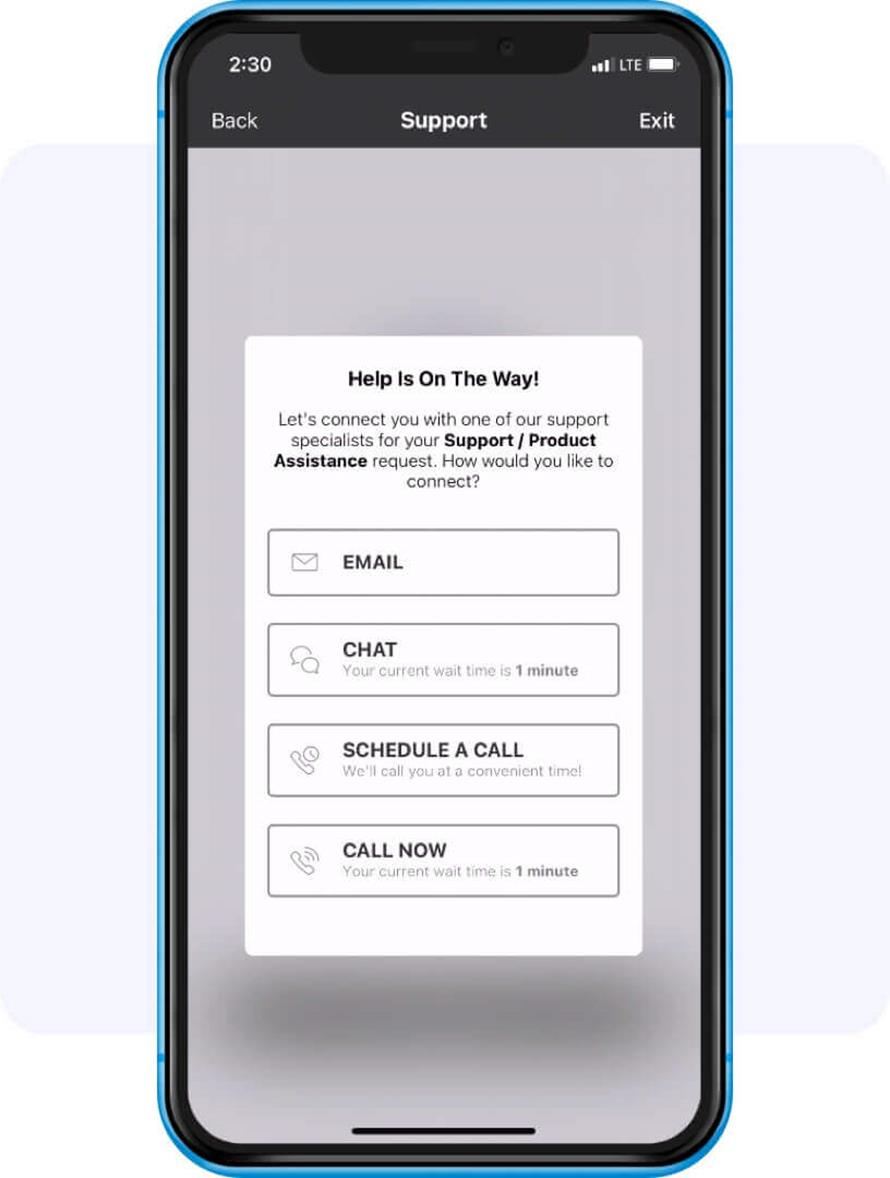 FAQs About UJET Voice
How does UJET's VoIP call center software ensure crystal-clear call quality?
Global routing algorithms ensure all media is kept in the callers' region and provides a high-quality, localized calling experience. We know how important call quality is to our customers, so we make sure to offer low-latency audio, no matter where your callers are located.
Can agents initiate outbound calls within the call center platform?
Yes, agents can easily initiate calls using the click-to-call functionality within UJET. For sales, renewals, and collection campaigns, teams can use UJET's Outbound Dialer to connect with a list of approved contacts efficiently. UJET screens outbound calls for busy signals, disconnects, and voicemails while prioritizing calls based on location for optimal efficiency. Regardless of how agents connect, they'll have all available customer information at their fingertips to increase connections and have meaningful, impactful conversations.