5 Ways to Celebrate Customer Service Week
by Meg Monk | 
Happy Customer Service Week! It's time to celebrate the amazing work that contact center leaders and agents do every day. It's not easy to provide great customer experiences, but it's always worth it when we make our customers happy.
How Will You Celebrate Customer Service Week?
There are lots of ways to say thank you to your team and show them how much you appreciate their hard work. To kick off your celebration, here are 5 ways you can show your agents and contact center managers how much you appreciate them.
Send a personalized thank you note - A handwritten note is always a nice touch and it will show your agent that you care about them as an individual. E-cards are also a quick and easy way to show your appreciation. You can find some great customer service week e-cards online, or you can make your own.


Make a thank you video - Videos are a great way to reach out to all of your agents at once. You can use this opportunity to thank them for their hard work and share some fun team memories to build camaraderie. Getting your company's executives involved in the video can help agents feel appreciated by the rest of the company, too.


Give a small gift - It doesn't have to be anything big, but a small surprise is always appreciated. A gift card for coffee, some candy, a plant for their desk, or another fun surprise will let your agents know that you appreciate them.


Host a customer service week party - Free food is always a great way to say Thank You. Consider providing lunch for agents if you work in an office, or host a virtual party and send remote agents a gift card for them to order their own lunch.


Give back to your community - Celebrate your team and give back to your community by hosting a winter clothing drive, a food drive for your community's food bank, or a book donation for a local school.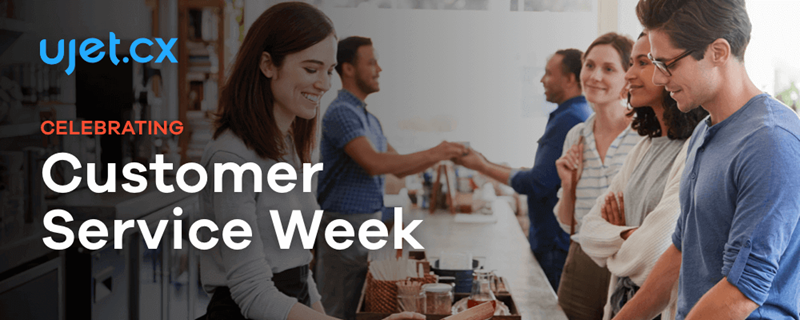 More Ways to Celebrate 
We asked our LinkedIn community how they plan to celebrate – here are just a few of your responses:
"We celebrated Customer Service Week early, and since we are primarily virtual, most games and activities were online. We decided on a 'super star' theme, and hosted online games of Name That Tune, guess the TV show from a picture of a set, and customer service Jeopardy. We ended the week with an in office red carpet event complete with photo booth, stars on the walk of fame, and of course, plenty of food. It was a great week!"
–Vickie Friece, VP Operations, Metabank


"CSW! The best time of the year. We have a week full of events, friendly competitions, prizes, and a big raffle to cap off Friday afternoon!"
–Michael Blair, Senior Vice President of Customer Experience at FIGS


"We have a full week of events at all of our campuses. A mural painting, our mascot will be there, photo booth, cotton candy and popcorn machines, food, music dancing, outside yard games, costumes, and so much more. It is sure to be a lot of fun. Our Member Service Pros are the voice of the company. We show our appreciation frequently, but this is like celebrating a holiday week for us!"
–Kristy Powers, Site Operations Executive, Navy Federal Credit Union


"Callzilla wants to make an impact in our community this year! We plan to do a clothing drive during customer service week. The team who donates the most to send to a local organization gets a prize — team building and giving back all in one!"
–Corey Klein Goldbaum, Head of Marketing, Callzilla 


Join in the fun by following UJET on LinkedIn and Twitter for fun CX tips and ideas all week long!