Turo, the world's largest peer-to-peer car sharing marketplace, has been committed to designing exceptional user experiences since its inception in 2009. After a decade of growth, Turo's leadership team decided to invest in UJET's live chat software, and has since added Voice and SMS as well to give users more control over their support experience.
"We're really striving to create a modern, integrated, fantastic customer experience that's safe, unbiased and scalable, so that we can continue to meet both existing and prospective guests and hosts with solutions on the channels that they really prefer," said Julie Weingardt, Chief Operations Officer at Turo.
Weingardt joined Turo in 2019 as the Global Head of Customer Service and now leads operations for the entire company, meaning she's very attuned to customer preferences and how they've changed over the last few years.
These days, Turo customers are most often choosing automated and self-service options like chat or Turo's searchable Help Center when they need support, so Weingardt and her team are working to make those AI-enabled options as user-friendly as possible.

"We want to provide more opportunities for the community to solve their own issues, which is what everybody wants to do," Weingardt said. "Nobody wakes up in the morning and thinks, 'Oh, good, I get to call a company's support line today.' They have other things they want to accomplish."
Self-service options enable better customer experiences 
Turo's Help Center allows both guests and hosts to easily search by topic to find answers to commonly asked questions. Users can either use the search function to find what they're looking for, or they can browse by category, for example, "Planning your trip," "Changing or canceling your trip," or "Refunds."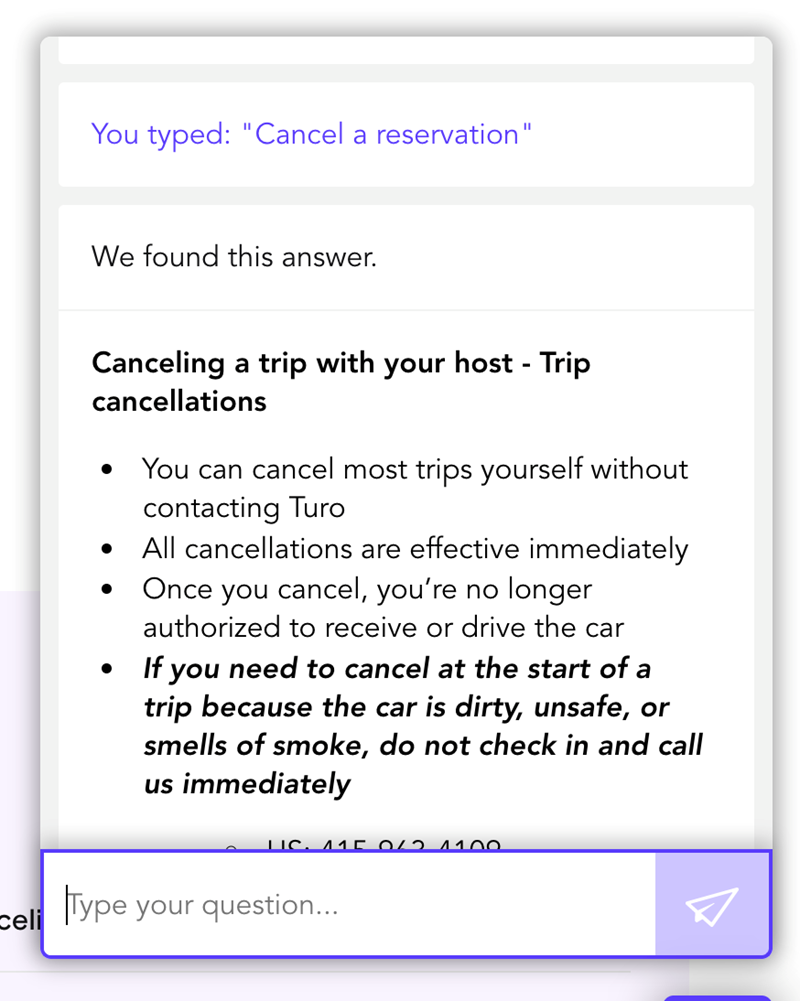 Blending virtual and live agents for peak efficiency
If a guest or host has a question that they can't find an answer for in the Help Center, they can simply click the purple chat box in the lower right corner of the website to connect to a Turo virtual agent. 
Virtual Agents are very effective at pre-verifying the user and gathering information about their issue, including deciphering whether a user is a guest or a host, and even requesting photos or videos to assist with resolution by a live agent.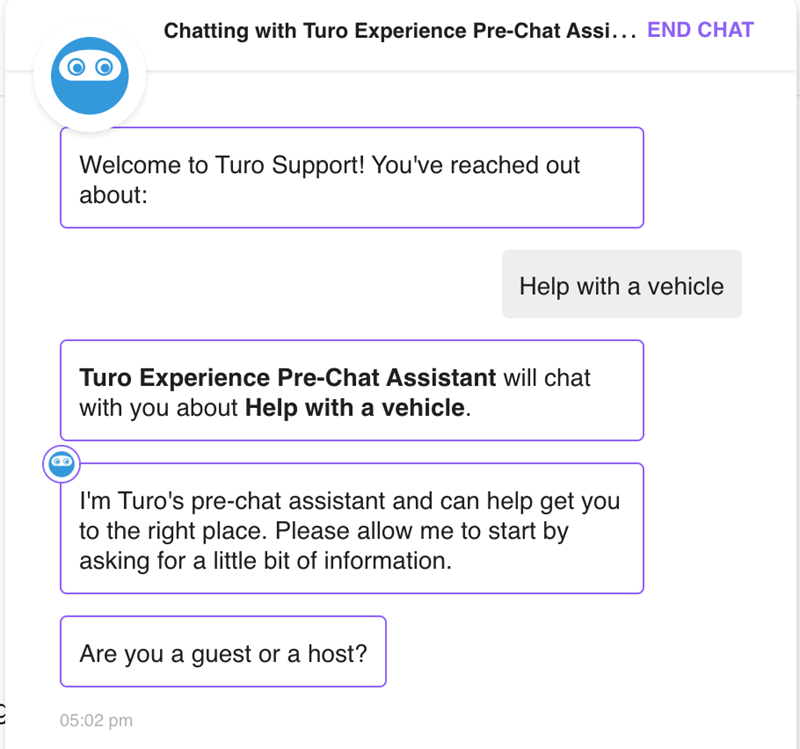 Blending live and virtual agents can have a big impact on your contact center efficiency and the overall support experience. By implementing UJET virtual agents to authenticate customers prior to transferring them to a live representative, Turo reduced their average handle time by two minutes, leading to happier customers and over time, lower operating costs.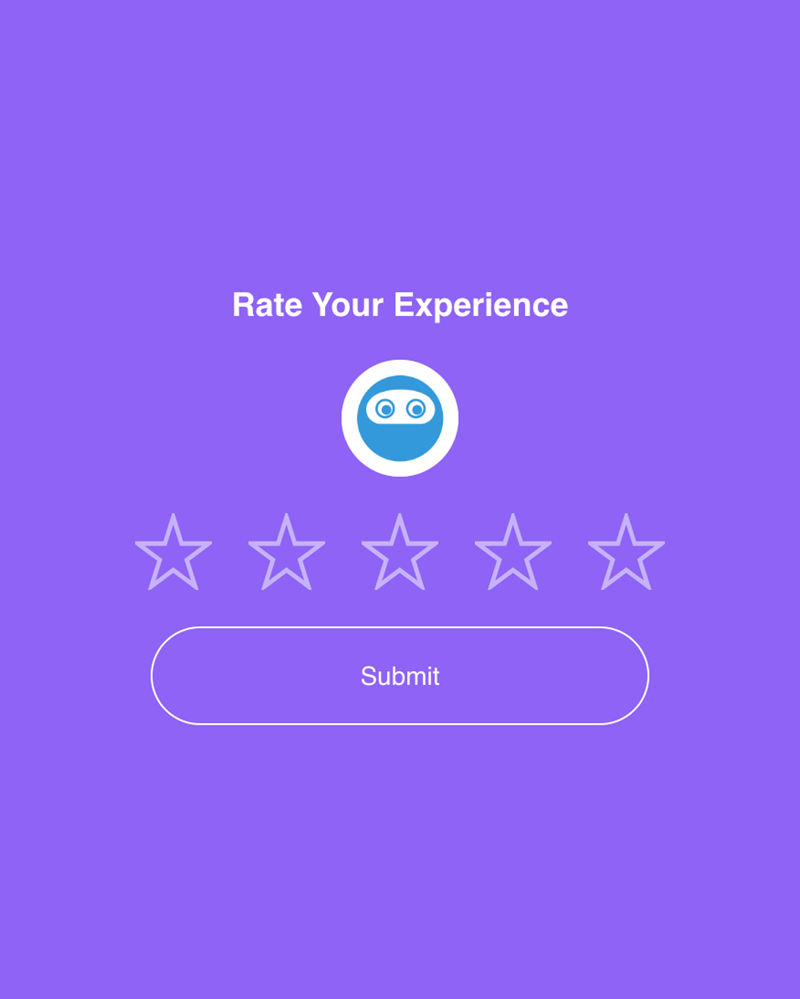 After the customer's concern is successfully (and quickly) resolved, UJET immediately prompts the user to rate their support experience so Turo can continually improve.
How AI is changing the role of the agent
Weingardt said that she expects the future of customer service at Turo to include a deeper reliance on automation and contact center AI tools that make the support experience require less effort.

But although self-service options have made accessing help easier for consumers, the offloading of straightforward tickets to virtual agents naturally leaves live agents with the complicated cases that require more thoughtful solutions.
In Turo's case, by adding virtual agents as the first point of contact for customers, Turo was able to deflect 25% of idle chats from being added to the live agent queue, which, in turn, saved Turo agents 7 days' worth of work time a month. 
"Once we get really good at accomplishing those things online with self-resolution, the job and role of the agent becomes to solve the issues that are more complex in nature," said Weingardt. "It's our job to make sure that the agent understands their role, and that they are given the training, tools, and empowerment to handle those issues."
The future of customer service is automation
Looking forward, Weingardt's team is working to continue to evolve their support options to enable hosts and guests to have more control over how, where, and when they engage with Turo.
"We strive to provide the support that our guests and hosts are asking for, and meet them where they want to engage whether online, over chat, over the phone, or via text," said Weingardt. "We want to provide experiences that enable resolutions with as little effort as possible."

To learn more about how UJET's contact center AI features can transform your customer support experience, request a demo.