6 Ways You Can Use Data to Build a Better Contact Center Customer Experience
by UJET Team |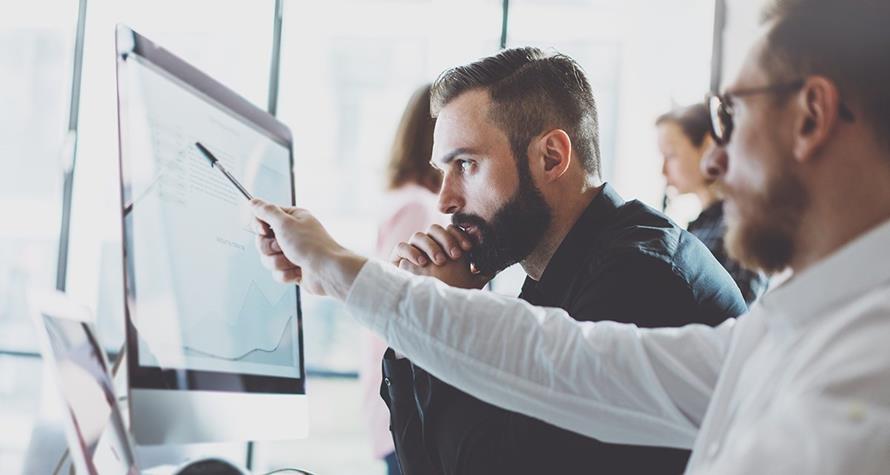 Having a wealth of data at your fingertips will help build a more comprehensive picture of how customers interact with your service. It's important to seek out ways to learn more about your customers and their preferences as they use your product or service.
Being able to reference this information is the best way to ensure the decisions you make align with customer expectations.
Customers contact you across multiple channels, at different levels of expertise, and for a variety of reasons. It's important to have customer service software in place to help facilitate the collection of information across every one. The more data you can gather and analyze, the easier it becomes to make changes to your product.
You can use this data to build better experiences for the customer as well as your team and set both groups up for success. Without customer data, you'll only be basing your ideas on intuition. The information you collect on customers is your best tool for making decisions that have a meaningful impact on each relationship.
1. Build better onboarding with customer feedback
Onboarding a customer to your service is arguably one of the most important steps in the customer journey. The potential for failure is at its highest and customers will need lots of help to familiarize themselves with your product quickly.
New customers view your company with fresh eyes, so it's important to collect both qualitative and quantitative feedback at this stage. Find out how many days it takes for a customer to complete the necessary steps to set up their account and look for any bottlenecks. You'll be able to see which tasks are the most difficult or frustrating by checking how long it takes a new customer to complete them.
When you find these bottlenecks, reach out to the customer and see why it's taking them longer to complete a specific task. This feedback can help identify any processes, website content, or task that is causing the issue. Your team should also be taking note of the conversations they have with new customers.
This combination of quantitative and qualitative customer data will give you a way to make changes to the process that make it easier for the customer. If there is a point in your onboarding where customers aren't sure how to proceed, you can easily make the necessary changes to the website or the explanation of that step to clarify.
With UJET, you can collect this information easily across multiple channels, streamlining the process for your team and making sure that customers don't have to repeat themselves each time they reach out for support.
2. Segment users to provide a more personalized experience
Not every customer is the same. Some will breeze through onboarding and get settled into the product easily, others will need a little guidance, and there are some that will need lots of help along the way. You don't want to scare off the newbies with too much all at once, and quick learners will be easily frustrated with drawn-out tutorials.
Find ways to customize the experience for each customer. The more you know about the customer, the easier that becomes. You can collect data up front by asking customers to self-identify their skill level during account setup, and your team can make note of each customer interaction over time. When a customer needs a bit of a helping hand, tag them as needs support; if they're more experienced or prefer to learn on their own, tag them self-service.
Here are a few more examples of different data points you can use for customer segmentation:
Account age — The longer a customer has been with the company, the more valuable they become. Their skill level is also likely to increase. It's important for your team to know how to handle interactions with long-time and experienced customers.
Contact history — What does the customer usually contact the team for when they reach out? Is it technical help with getting the account set up or more strategic/high-level support? You can segment these customers and route them to specific agents who are best suited to help them.
Customer status — If the customer is a VIP or they're coming in through a new sale and need the white-glove treatment, you can set up segmentation for them as well. Your team will also be notified of these statuses and can react accordingly.
These are just a few ways you can use data to segment your customers. Each data point gives your agents a way to interact with the customer on a more personal level and make each experience unique to their needs.
3. Surface pain points through issue tracking
Products evolve over time. It's important to keep making changes to the product and find a way to smooth out any points of frustration for the customer along the way. You can use customer data to help facilitate this process.
Tracking the customer's experience with the product will not only help you learn more about them, it will give insight into where the product fails to live up to their expectations. When you track the issues that pop up in real time, it will help your team see how any changes to the product affect the customer as well.
An up-to-date log of common problems, bugs, or areas of friction for the customer can also help your agents alleviate potential frustration faster. Your team will know the issues that are affecting the product and can relay this to the customer directly. This helps make the customer experience a bit less confusing, as the customer will know that the company is actively aware of the issue and is working towards a resolution.
4. Find support bottlenecks with service agent metrics
Data doesn't just help make the customer experience with the product better, it can help make the experience of reaching out to your team better as well. Running an effective contact center requires a lot of cooperation and knowledge from your team, and you can run into problems if things aren't being evaluated and optimized over time. A poor support experience can have drastic effects on the customer experience.
It's important for your team to keep track of wait times, average call duration, and a number of other key performance indicators (KPI). Referencing these data points, you can ensure that the team is staffed effectively, trained correctly, and working efficiently. It also gives you a way to track the team's performance over time.
These KPIs can also provide insight into how customers prefer to contact your team. If call volume outpaces your incoming chat volume, you'll be able to make the right kind of choices to better serve the customer. UJET provides this kind of multi-channel support and tracking to make it easier for you to focus on building out the best experience for the customer.
5. Boost retention rates with long-term customer histories
All companies experience churn. If you can find a way to make the customer experience evolve and grow with the customer's expectations, it can help decrease friction and boost retention.
Calculating churn via Neil Patel.
Churn happens for a number of different reasons. Long-term customers might outgrow your product, or you might lack a feature that they need as their business expands. Newbie customers might just be evaluating their options or become frustrated with the time it takes to get comfortable with their new purchase. When you keep track of each customer's interaction history, it will give you insight into the different reasons that they leave.
This data will not only help you make changes to the product that will have a real impact on your current customers, it will lead to improving their overall experience. When customers are happy, they're more inclined to stick around.
A rich customer history will also give your team the tools it needs to provide more personalized support. Call logs and agent notes will help your team understand issues faster without having to ask each customer to explain their issues again.
6. Automate simple interactions for a faster turnaround
Being able to streamline the customer experience will help customers focus on what's important to them — running their own business. When you can automate rote interactions, it will take the strain off your team as well as give the customer a quick solution.
Automation is a great tool for your team and will help keep your company inline with where the market is heading in the future. Finding ways to anticipate the customer's question or offering them a way to find it on their own goes a long way towards helping the customer be successful faster.
Tap into your support metrics and feedback to find out what common problems your customers are experiencing. You can use that information to create an FAQ or Knowledge Base article that explains the issue. If a customer comes to your site with this question, they can be directed to that page immediately without having to reach out to the team. Just remember that this kind of automation isn't always the best way to go; you should still give the customer a way to reach out and resolve their issues directly.
Knowledge is the key to a better customer experience
When you know more about your customers, it will be easier to provide them the best support possible. Giving agents access to customer data—their interactions with your team and their experience with your product—will make each interaction effortless.
Subscribe
The best customer experience content delivered right to your inbox.