Beyond Omnichannel: How 3 Brands Deliver State-of-the-Art CX for Modern Consumers
by UJET Team |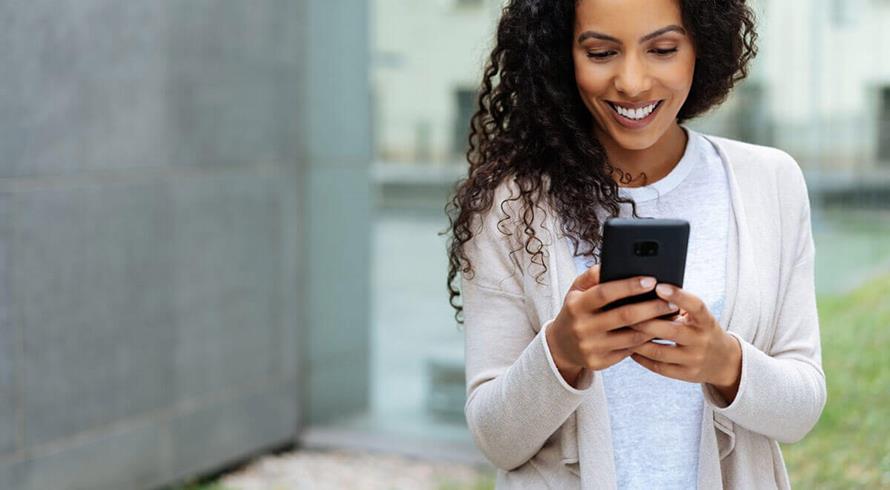 Omnichannel was never supposed to be just about your agents. Sure, your customer service agents need to be able to switch seamlessly from chat to voice and have all customer information in one easily accessible location. But omnichannel was always supposed to unify the customer journey, too.
Improving the customer experience isn't just a product of your agents having everything in one dashboard; it's customers transitioning from chatting with your agent to speaking with them over the phone—without needing to reauthenticate and reexplain their problem. This is state-of-the-art CX for the modern shopper. And Wag!, ByNext, and Instacart are using this simple focus on customer experience to drive big wins.
Wag! Embraces Mobile as More Than a Channel
More than half of all ecommerce sales are expected to come from a mobile device by 2021. And savvy brands understand that mobile is more than just a channel; it's a paradigm shift in the way we, as people, interact with each other—and with the brands we love.
Say you're walking your dog or at the park with your kids, and they do something cute. Your likely reaction is to whip out your phone and take a photo—which you then proceed to send to your friends, family, and probably your Instagram followers.
Mobile devices have made it easier (and faster) than ever to share experiences, communicate, and get instant gratification. Companies like Wag!, the app that connects pet owners with pet sitters and dog walkers in their area, are leveraging these capabilities to deliver a more enjoyable user experience.
Since both pet owners and pet sitters interact with Wag! primarily (or solely) through their app, Wag! knew they needed to create an intuitive mobile customer service experience. Wag! partnered with UJET to roll out a unified customer experience in just 30 days.
By integrating voice calls directly into their app, Wag! reduced the number of steps pet owners or sitters must go through before they can get the assistance they need. Now, a dog walker can contact support through in-app messaging, send photos, or seamlessly speak to an agent via an in-app voice call without needing to reauthenticate or explain their problem multiple times.
Before they answer a call or respond via in-app messaging, Wag! support agents get all of the dog walker's and dog owner's information. This enables each agent to provide a solution for customers faster, which is vitally important if a dog walker needs quick answers about a pet's allergies or vet information.
Wag! embraced the capabilities of their customers' smartphones and applied the omnichannel 21st-century mentality to their customer service. As a result, the company reduced their in-app voice wait times by 50%. Their average public switched telephone network (PSTN) caller wait time dropped to less than one minute, and their PSTN call abandonment dropped 8%.
ByNext Uses Real-Time Data + Customer History to Solve Issues Faster
According to HubSpot Research, when a customer reaches out to support, there are two things that irritate them more than anything else: waiting on hold, and repeating the same information over and over again when they switch channels.
ByNext, formerly known as Cleanly, is an on-demand laundry and dry cleaning service. They set out to address these two customer pain points by embracing multimodal omnichannel customer service.
ByNext's business model is centered on convenience and fast, hassle-free service. They pick up dirty laundry and bring it back fresh and clean in 24 hours or less. So when a customer called asking for an order update, ByNext knew they absolutely had to deliver quick answers through a hassle-free process.
To accomplish this goal, ByNext unified their customer relationship management (CRM) tool with UJET's contact center platform to ensure every agent had all important customer information readily available. Torva Williams-Allen, Director of Customer Success at ByNext and former Customer Success Manager at Cleanly, explained, "We want to make our customer experience as personal as possible, and UJET's ability to show customer data is essential."
When it comes to customer service interactions, every second counts—and ByNext didn't want those seconds to turn into minutes while their agents were pulling up customer profiles or flipping back and forth between screens or apps. By partnering with UJET, ByNext reduced their call wait time by 11 minutes and simplified the agent experience—all customer information is now available in one intuitive dashboard.
ByNext combines real-time data and customer history to predict intent, inform routing and channel steering, and resolve issues much more efficiently. Their average daily call volume has dropped by more than 60%. Common queries are now easily answered via text or in-app chat features. And ByNext's customized Interactive Voice Response (IVR) trees with multilevel options speed up response time for more complex issues.
"All the features and customizations of the UJET platform helped us become more responsive to our customer's needs," Williams said. This is reflected in ByNext's CSAT score, which rose 13%.
Instacart Doesn't Integrate Customer Data — They Unify It
API integrations are table stakes for modern contact centers, but they're riddled with problems. When you build your API integrations as an afterthought, you wind up with duplicate, incomplete, and even lost data as your contact center vies with your CRM for authority. This is why we designed UJET to federate, or unify, your customer data within the CRM.
While other contact centers integrate and selectively map data to Zendesk, Kustomer, Dynamics, and other CRMs, only UJET treats your CRM as the single source-of truth. UJET reads and writes every interaction and data point directly to and from your CRM, so customer data is updated in real time (and never lost or duplicated).
CRM data federation ensures that every customer service agent is working with the most up-to-date, complete information—and they are able to provide state-of-the-art customer service every single time.
By modernizing their contact center with UJET, the grocery delivery company Instacart was able to decrease call-resolution time by 30% and reduce repeat calls within 48 hours (using in-app voice) by 5.6%. But perhaps most impressive, Instacart was able to scale their business at a time when consumers were in dire need of the company's services.
As food-delivery demand soared in the wake of COVID-19, Instacart saw app downloads skyrocket more than 200%. And as their user base rose, Instacart scaled their globally distributed customer service team by more than 10X. In just 40 days. Without a single hiccup.
Until recently, scaling at this level wasn't possible without making significant compromises to your routing, reporting, or reliability, and, ultimately, your customer experience. But with UJET, you don't have to compromise. Our modern architecture is hyper-elastic. So, as brick-and-mortar stores reopen, on-demand services like Instacart can quickly and easily scale back to normal levels.
Put Customers First to Drive Real Results
When you take care of your customers, the results take care of themselves.
Smartphones empower consumers to snap still photos while taking a video. Commuters can chat via FaceTime on their iPhone while accessing their GPS. And we all want customer service to take advantage of these cutting-edge tools so we get real results and an enjoyable customer experience.
At UJET, we've helped Instacart, ByNext, Wag!, and many more build and scale elite customer service experiences designed for the future. Because we're not just a contact center—we're customers ourselves. And we think all customers deserve enjoyable experiences built for modern technology when interacting with their favorite brands.
Click here to learn more about the UJET CCaaS platform.
Subscribe
The best customer experience content delivered right to your inbox.