What is an IVR Phone System?
by UJET Team | 
No longer is automation the future of business—it's the now, even the yesterday of business. Everything from your business' social media to traditional phone calls can now be automated to make customer service and purchasing more streamlined, and for small businesses in particular, automated tools can be a powerful way to grow your business.
One of the most popular and—dare we say it—must-have automated systems on the market today is the IVR Phone System. Here's everything you need to know about IVR and why you should consider it for your own business.
What is an IVR Phone System?
IVR stands for Interactive Voice Response. An IVR phone system is automated call routing technology that interacts with customers and allows them to gather information about your business or get in touch with a specific department via pre-recorded voice response messages without ever needing to speak to a live operator.

Advanced cloud contact center platforms like UJET also support visual IVR, which allows a customer to indicate what they need help with and browse options for contacting support without even needing to leave your app. Visual IVR is a great way to ensure your customers can always access support when they need it, and helps ensure they have a consistently positive experience with your brand at every touch point.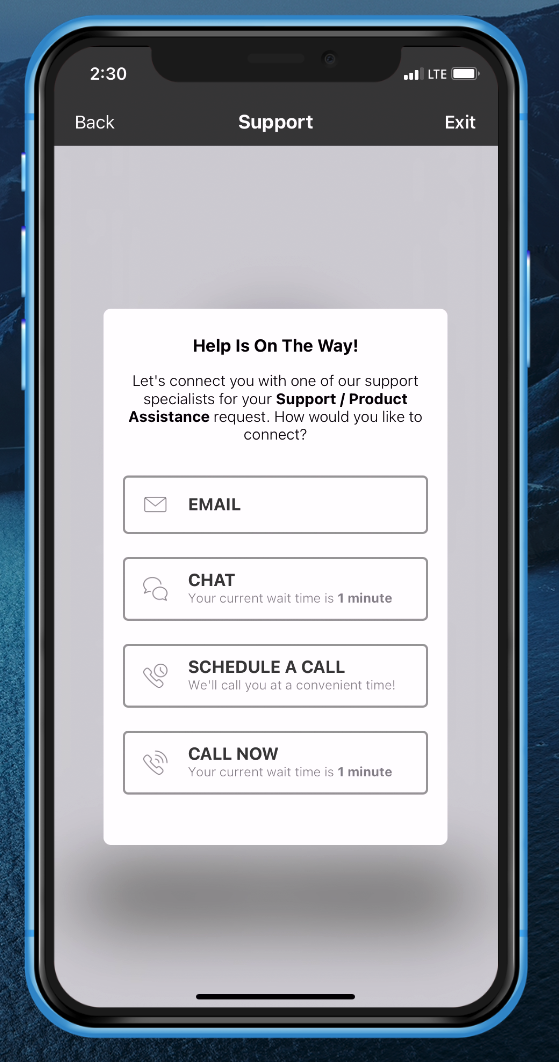 How does an IVR system work? 
An IVR phone system allows customers to call into your business and be greeted by an automated voice that directs them through a menu or phone tree of options depending on what they're calling about. 
IVR is intuitive. Using their own voice or their phone's numeric keypad, customers can navigate through that menu until their simple questions are resolved—maybe they're just calling to find out what a business' holiday hours are, for example—or, if their questions are more complex, until they've been connected with the best customer service agent to assist them. 
If this sounds familiar, it's probably because IVR software is an incredibly common technology and chances are you've interacted with it recently—think "press 1 for account information, press 2 to speak to a representative." Those voice responses are coming from an IVR system. 
Why should you consider an IVR system? 
IVR removes a lot of the headaches that customers can experience trying to get support from a company. 
Consider a traditional phone call from a customer who needs a specific issue resolved. That phone call may take the customer to someone at a front desk who, lacking the expertise to help them, will have to transfer them to a different department. If the representative in the department they're transferred to is busy, the customer will have to wait on hold for an indeterminate amount of time until someone is available to help them. 
Let's say that the well-meaning representative at the front desk unknowingly transferred the customer to the wrong department. After describing their issue multiple times and waiting on hold for a response just to be redirected to someone else who makes them repeat the process, the customer will be agitated, unsatisfied, and without answers. 
Now imagine if that customer called your business to get a simple question answered, one that could have been answered in under a minute. For example, maybe the customer is calling to ask whether your storefront is open on weekends. Waiting on hold for a live agent is a whole lot of hassle for very little return, and it leaves a very sour first impression for your customer. 
An IVR system directly addresses those issues, and that's especially useful for small businesses with limited resources and staffing. 
What can an IVR system do for your brand?
IVR improves your customer service
An IVR phone system is a great way to cut out all of those unnecessary middle men and address some of the most common, easily answerable questions so a customer doesn't  have to worry about being put on hold for hours. IVR software can, in fact, eliminate most lengthy customer holds during periods of high call volume because, when properly implemented, it gives every customer an automated journey to get their questions answered rather than tying up your direct phone lines. 
IVR software reduces manual errors, like agents transferring customers to the wrong department, and increases first contact resolution so that your customers won't need to call in again. Another thing IVR can do is expand language options so you can reach even more customers. 
IVR gives your customers 24/7 access to your business
In addition to streamlining the customer service experience, IVR software can make support more accessible. When your business has limited hours, you have a limited window of time to help customers. An IVR system expands that window because customers can get many of their questions answered no matter what time of day they call and no matter if a human agent is available to help them or not. That's great for business, because it allows individuals with a variety of life circumstances to be able to get solutions and feel confident that they can resolve problems on their own just by navigating your IVR menu. In that way, you improve your customer service and your customer care.
IVR empowers your representatives
It can be exhausting and demoralizing to be on the phone all day with customers who have issues they need resolved, especially if you have other work that needs to get done, the customer is angry, or you don't fully understand how to help them. 
An IVR system allows your customer service agents to pass the baton, relieving their workload and their stress so they can breathe easier at work, perform better, and have more time to address customer concerns that require help from a live agent. 
Other uses for IVR software
Aside from helping your customers get support, IVR systems are a great way to communicate information you want your customer to know. You can provide information about your business hours, upcoming promotions, product pricing and more. Customers can also use IVR to access their account information and make secure payments over the phone, expanding your company's support capability.  
Is IVR complicated to set up? 
It used to be that IVR systems required their own set of hardware and infrastructure to support several servers. It was an involved process to install and maintain them, which is a big turn off for smaller businesses without many resources.

Today, IVR software can be automatically integrated to your systems directly from the cloud, no additional hardware, specialists, or infrastructure required. It's as simple as that. 
How to pick the best IVR system
Some businesses make the mistake of choosing IVR software that only operates in a silo. The best bang for your buck long term is to look for an IVR phone system that can be integrated with other apps and platforms and customized to address all potential customer queries and needs. 
You may not have a need for a website chat box or multi-lingual support right now, but as your business grows, you'll want an IVR system that can grow with you and provide every feature you need. 
That's where UJET comes in. UJET's intuitive IVR software can not only help you manage calls, but it comes with all of the advanced features you'll need as your business grows. UJET's software is customizable, meaning you can get all of the features your business needs now, and add on new features as you grow. Request a demo today to see UJET in action and learn how it can help you grow your business.