UJET Workforce Management
Simple, Flexible Forecasting & Scheduling for the Modern Workforce
With remote and hybrid work becoming the new normal, managing contact center staffing has become more complicated than ever before. UJET Workforce Management (WFM) delivers simple, flexible, real-time forecasting, scheduling, and adherence monitoring, all on one easy-to-use and quick to deploy platform.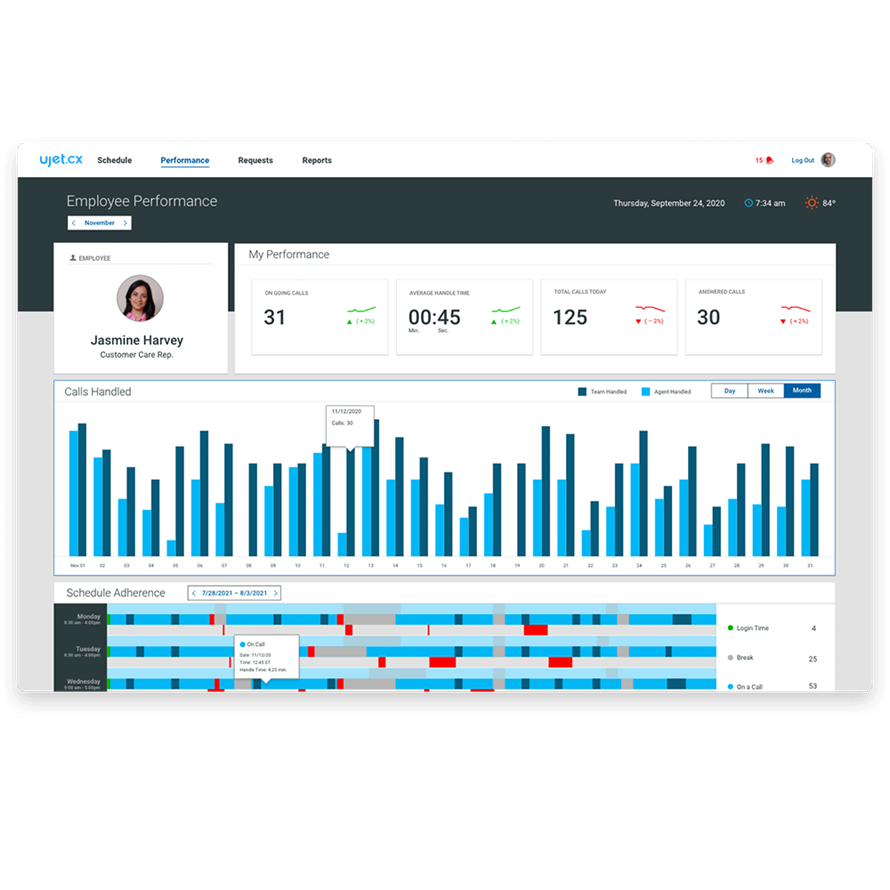 Intelligent, Flexible Forecasting
Quickly and easily create highly accurate omnichannel forecasts that model staffing requirements using both historical and real-time data. Unlimited interval, weekly, and monthly patterns and in-forecast updates provide day-to-day flexibility so you can make changes on the fly, or set it and forget it.
Dynamic Scheduling to Optimize Staffing
Save time by automating scheduling based on expected staffing needs, allowing agents to pick their schedule based on availability and skillset, or a combination of the two. UJET WFM is customizable and flexible so you can create schedules that account for agent skills, time zones, channel coverage, employee time-off requests, and more.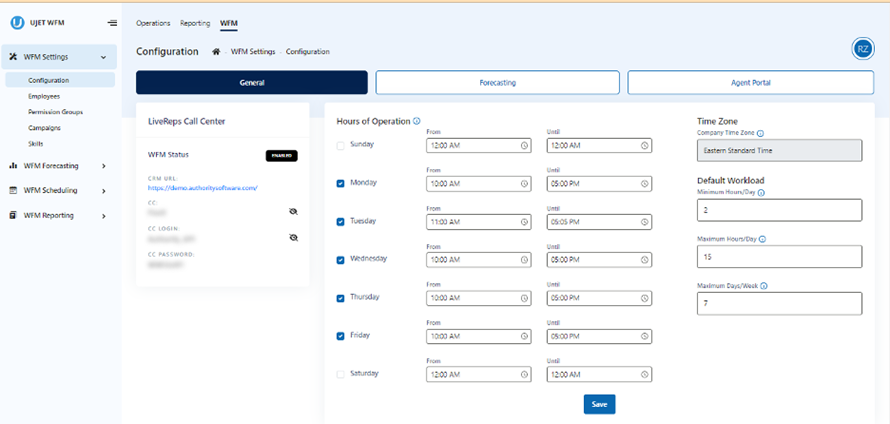 WFM Features
Administration
Permission-based access
Connect employee details
Defines hours, locations, and time zones
Establish baseline forecasting levels
Set shift automation rules
Skills management
Forecasting
Group forecasts
Daily/weekly/monthly unlimited patterns
Forecast templates
Budgeting tools
In-forecast smoothing
Voice and omnichannel forecasting
Scheduling
Automated scheduling
Event scheduling
Accommodate flex, part time and full time agents
Scheduling templates
Self-service options
Portals
Schedules
Self-service options
Communication tools
Shift management tools
Approvals management
Real-time monitoring
Frequently Asked Questions
WFM is an acronym for "workforce management." Workforce management platforms are software solutions that help organizations create schedules, track employee time and attendance, and optimize staffing based on forecasted demand.
How do I know if I need WFM software?
If your contact center is currently using spreadsheets or legacy WFM technology to schedule shifts and you struggle with time tracking, optimizing performance, performing payroll operations, or ensuring regulatory compliance, workforce management software could help your team reduce costs and work more efficiently. UJET WFM was designed to be affordable for organizations of all sizes, as well as those that are new to WFM software.
How can UJET WFM help my organization comply with Fair Labor Standards?
Workforce Management software helps companies follow local and national labor laws by automating processes and reducing the margin of error for scheduling and forecasting. UJET WFM can keep track of how many hours each agent is eligible to work, including overtime, if applicable.
How can WFM software help my company reduce costs?
Workforce management software offers features that include real-time tracking and historical reporting of  employee time and attendance, activity, performance and productivity. Highly accurate tools allow for optimization of agent resources to minimize over or under staffing while meeting expected demand and contact center SLAs. WFM helps companies better understand and manage their workforce, measure the effectiveness of their resources, and make sure they are leveraging their workforce in an efficient manner.
In general, what ROI can contact centers expect from workforce management software?
Research by Nucleus found that workforce management solutions pay back an average of $12.24 for every dollar spent, with an average payback period of just under five months.