The great cloud migration is now truly mainstream, with virtually every industry represented – finance, healthcare, retail, transportation, and business process outsourcing (BPO), to name just a few.
"There is no business strategy without a cloud strategy," said Milind Govekar, Chief of Research at Gartner in a 2021 press release. "The adoption and interest in public cloud continues unabated as organizations pursue a 'cloud first' policy for onboarding new workloads. "
Total cloud revenue for 2022 is estimated to hit nearly half a trillion dollars, and over the next few years Gartner analysts expect cloud revenue to surpass its non-cloud counterpart in a number of enterprise markets.
The Evolution of Cloud Contact Centers (CCaaS) 
Basic cloud-based call center capabilities began appearing in the mid-2000s as software vendors started moving their on-prem platforms into privately managed data centers.
Then around 2013, we saw more Contact Center as a Service (CCaaS) providers marketing themselves as 'cloud native' or 'born in the cloud', as they built out SaaS platforms on public cloud environments like Amazon Web Services (AWS).
The cloud is a natural fit for contact centers, as it enables communication with customers on any channel, centralized customer journeys, and anywhere, anytime workforces. But for some cloud-based contact centers, life isn't 100% sunshine…or 100% uptime.
Whether it's a widespread outage at "backbone" cloud provider or a localized problem at your contact center provider, downtime carries serious costs – and your customers, frankly, don't care whose fault it is. They just want to be able to get help when they need it.
What is the Cost of Downtime?
Here's a quick look at the cost of downtime, using hypothetical but realistic figures from a large contact center deployment.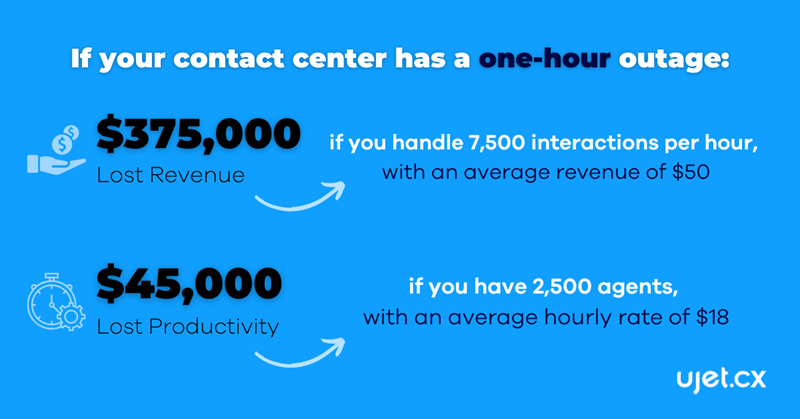 In a single hour of downtime, this hypothetical contact center racked up nearly half a million dollars in lost revenue. However, that figure represents only the direct costs. Steep as they are, the potential damage goes beyond what's immediately apparent.
Severe and/or repeated outages can wreak havoc on your company's reputation and the perception of how well you're able to attend to customer needs.  
Consumer sentiment will eventually spill over into public reviews, making the issue widely visible and affecting the decisions of prospective customers.
If the underlying reliability issue isn't addressed, the outages can become permanently associated with your brand.  
All that said, the cloud is almost certainly the right home for your contact center – you just need to choose a provider who's already thought through the above concerns, and addressed them via service architecture.
Enjoy 100% Uptime – Guaranteed – With CX Intercloud
UJET's infrastructure starts from a place of best-in-class cloud resiliency. Our application and data layers are replicated across three zones in a given primary geographic region. 
The data layer is also replicated to a fourth zone, this one in a geographically separate region for the sake of recovery in the event of a catastrophic regional outage. This schema has delivered over 12 months of uninterrupted uptime for UJET customers.
For the ultimate in resiliency, business continuity, and disaster recovery, consider UJET's CX Intercloud. In an industry first, the product offers failover and load-balancing between public clouds, enabling customers to have their UJET instance pre-deployed across multiple cloud platforms. The product supports cross-cloud operation on Google Cloud Platform (GCP) and Amazon Web Services (AWS).
CX Intercloud not only promises but delivers the following benefits:
Unparalleled Uptime & Reliability -

No CX competitor currently delivers on a guarantee of 100% uptime; this is unique in the market.

Massively Enhanced Redundancy -

Redundant and load-balanced across geographic areas and separate cloud providers.  All stacks can support 100% of workload.

Guaranteed Peace of Mind -

In the event of an outage, failover is seamless - even live calls are preserved, with no disruption to customer or agent.
The guarantee of 100% uptime is a meaningful one, with no exceptions for maintenance and upgrades. 
This is all possible due to a dynamic service mesh that replicates and ties together the application and data layers – across three zones, and then across another three zones, but using a completely separate cloud provider. Every stack is capable of supporting 100% of the customer's workload.  
Below is a high-level diagram illustrating the structure of CX Intercloud's architecture.

CX Intercloud is already receiving external validation. In March 2022, UJET was awarded the 2022 Best of Enterprise Connect overall, largely on the strength of CX Intercloud and its position as the industry's first cloud-to-cloud failover solution.
Ready for the ultimate in resiliency, business continuity, and disaster recovery, with UJET and CX Intercloud? Learn more about how CX Intercloud can give you and your customers peace of mind with 100% contact center uptime.