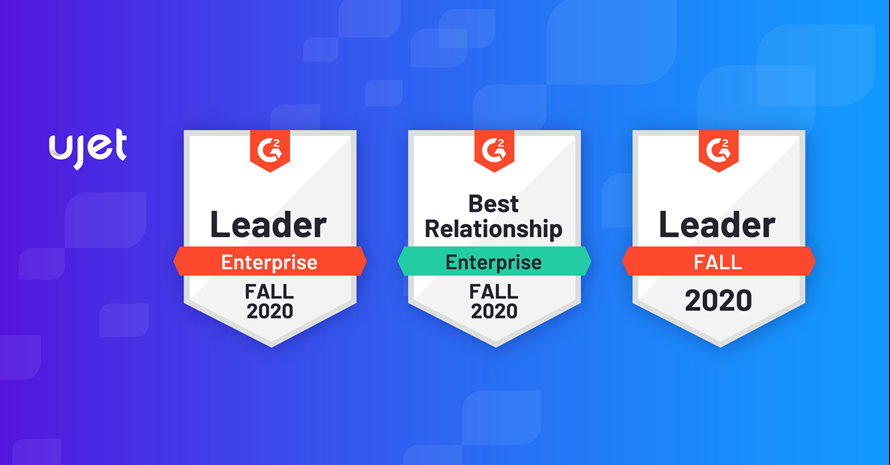 UJET Leads G2 Fall 2020 Contact Center Operations Enterprise Report with Highest Customer Satisfaction Ratings and Relationship
Recognized as a Leader in Contact Center Operations for the Fourth Consecutive Report
SAN FRANCISCO, CA – October 8, 2020 – UJET Inc., the ultra-modern cloud contact center platform for customer-centric enterprises has been recognized as an Enterprise Leader by G2 with a Satisfaction score of 97 out of 100, the highest Satisfaction score in their Contact Center Operations Fall 2020 Enterprise report. UJET also led all CCaaS providers with the highest score on G2's Enterprise Relationship Index.
UJET Rankings: Enterprise Grid Report for Contact Center Operations | Fall 2020
Satisfaction: 97 out of 100, the highest score in the report.

[Category Average: 54]

Ease of Setup: 100%

[Category Average: 81%]

Ease of Use: 96%

[Category Average: 87%]

Ease of Admin: 95%

[Category Average: 83%]
UJET Rankings: Enterprise Relationship Index for Contact Center Operations | Fall 2020
Relationship Score: 97 out of 100, the highest in the report. [

Category Average: 80]

Ease of Doing Business With: 98% [Category Average: 87%]

Quality of Support: 95%

[Category Average: 85%]

Likelihood to Recommend: 94%

[Category Average: 85%]
Highlights from UJET customer reviews on G2 include:
"The most convenient, reliable, user-friendly system I've used so far."
"UJET is a very smart and helpful tool. Very easy to use."
"You can also send them messages and request pictures while in a chat. I believe that was the most innovative feature that could've been added."
"I love knowing I can finally provide my best service in a trustful tool that assures the best quality of work."
"Based on the high levels of customer satisfaction and substantial market presence, we again identified UJET as a Leader in our Fall 2020 Contact Center Operations Grid® report," said Kara Kennedy, Director of Market Research, G2. "Users reviewing UJET have given an average of 4.7 out of 5 stars, with 99% of reviews rating the product either 4 or 5 stars."
UJET was also recognized with Contact Center Operations badges in categories such as:
Momentum Leader

Most Implementable

Best Usability

Highest User Adoption
G2 rankings are based on numerous factors, such as real-time satisfaction ratings and scores aimed at streamlining the buying process and identifying the best products based on the experiences of their peers.
"For years we've heard claims about how AI, omnichannel, and personalization would 'transform our customer experience' and improve the bottom line.  So why are our collective brand experiences still so fragmented, unintelligent, and robotic?" said Vasili Triant, Chief Business Officer, UJET. "We've worked hard to address long-standing design flaws and conventional thinking that have failed to evolve in parallel with the changing human interaction landscape, and we're thrilled to see our modern approach validated by our customers and recognized by G2. We'd like to thank our customers, not only for helping us to earn this distinction, but also for their pioneering efforts in ushering in a new era of predictive, contextual, and conversational CX for the modern consumer."
To learn more about UJET's G2 rankings and to read more about what customers are saying visit: https://www.g2.com/products/ujet/reviews
About UJET
UJET offers the world's most secure, scalable all-in-one cloud contact center platform, developed specifically to transform customer experiences for the digital economy and smartphone-era. The UJET Mobile SDK enables ultra-modern digital and in-app customer service, with seamless experiences and actionable data across voice, chat, email, and self-service channels. Deep CRM integrations and an amazingly intuitive administration support automated operations and provide consistent customer interactions across sales and support. UJET is trusted by innovative, customer-centric enterprises including Instacart, Turo, Noon Home, and Atom Tickets.
UJET is PCI-DSS, SOC I, II and III, HIPAA, GDPR, FINRA, ISO 27001, ISO 27018, and EU-US Privacy Shield compliant.
Learn more at ujet.cx.
Media Contacts
Jason Sophian
Head of Communications, UJET
jason@ujet.cx
Chad Torbin
Speakeasy Strategies
ujet@speakeasystrategies.com