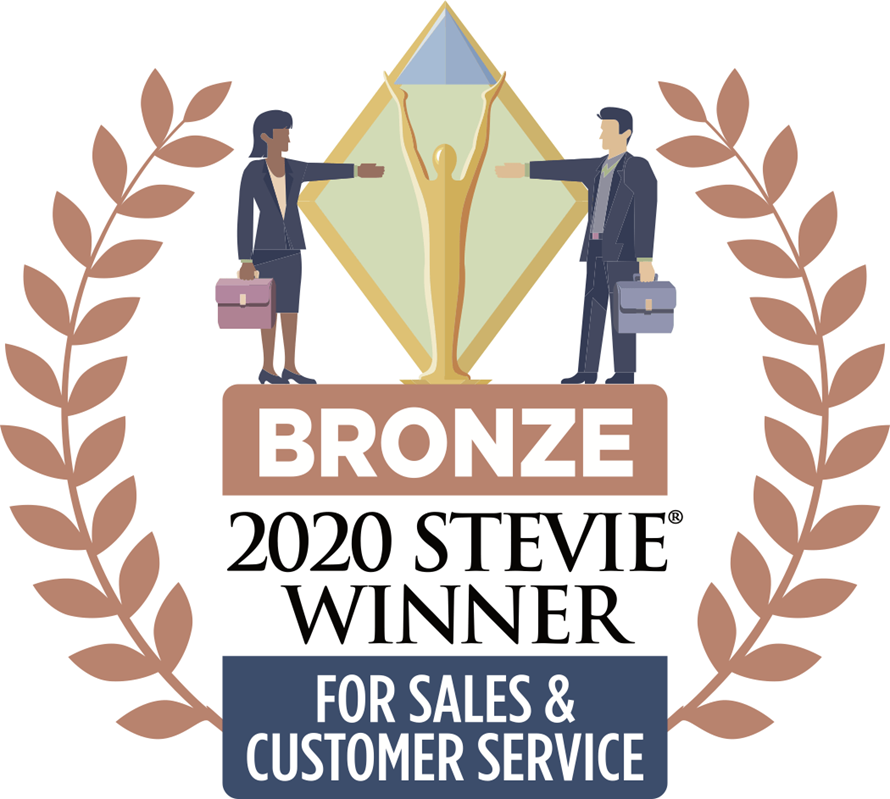 UJET Wins 2020 STEVIE® Award for Sales and Customer Service
SAN FRANCISCO, CA – March 3, 2020 – UJET Inc., a leading provider of customer support communications and solutions, today announced it has been named a winner in the 14th annual Stevie Awards for Sales and Customer Service. With the addition of new product features, enhancements, and integrations, UJET received a bronze award in the Contact Center – New Version category. The award marks UJET's second Stevie Award, having previously won for Tech Startup of the Year – Software in 2018.
The Stevie Awards for Sales & Customer Service are the world's top honors for customer service, contact center, business development, and sales professionals.  The Stevie Awards organizes eight of the world's leading business awards programs, also including the prestigious American Business Awards®  and International Business Awards®.
Some of the more notable updates to the UJET platform which helped garner this award include:

Microsoft Dynamics 365 Integration

– Microsoft Dynamics 365 users now have full access to the UJET Customer Support Platform. Dynamics customers can leverage UJET's call and chat adapters, patented smart-actions and advanced routing, including logical evaluation of user segmentation data from Dynamics, helping to reduce overall session times.

Verint Monet WFM Integration (Workforce Management) –

With the new Verint Monet WFM integration, data can automatically be pushed from the UJET platform into the WFM system, allowing supervisors to support agents and supervisors to more efficiently run their contact center. Now, support teams can incorporate forecasting, scheduling, and better optimize their contact center workforce and resources through the UJET platform. 

Verint Monet QM Integration (Quality Management)

– By integrating with the Verint Monet QM, UJET's call adapter now directly integrates with Verint Monet, meaning the right data is automatically delivered to, and subsequently evaluated by the QM system. The QM integration allows for monitoring and evaluation of agent interactions with customers, tracking keywords, and other key performance metrics, quotas, and goals.

Wait-Time SMS – While users are waiting to be connected to an agent, they can create and send information related to their call before it even starts. Via the mobile phone's text messaging app, customers can send context, including photos, related to their call. Wait-TIme SMS is the first of its kind and helps expedite the entire interaction by providing agents with the necessary context and a single corresponding ticket in their CRM as the call begins.

"On behalf of our growing team and category-leading customers, we're honored to receive yet another Stevie Award," said Anand Janefalkar, Founder & CEO, UJET. "This award is a testament to our commitment and dedication to delivering a cloud-native and mobile-focused support experience that meets customers across all endpoints and channels while equipping support teams with the tools and intelligence they need to provide one-of-a-kind experiences for their customers."
"Stevie Award winners from around the world should be very proud of their achievements.  The judges were impressed with the vast range of nominations submitted for 2020 and have agreed that their accomplishments are worthy of public recognition," said Stevie Awards executive chairman, Michael Gallagher.
This comes on the heels of other distinguished awards UJET has recently received including being named a Cool Vendor in Customer Service and Support by Gartner, a Leader in Contact Center Operations Software by G2, and CUSTOMER Magazine's 2019 Product of the Year.
Details about the Stevie Awards for Sales & Customer Service and the list of Stevie winners in all categories are available at https://stevieawards.com/sales.
About The Stevie Awards
Stevie Awards are conferred in eight programs: the Asia-Pacific Stevie Awards, the German Stevie Awards, the Middle East Stevie Awards, The American Business Awards®, The International Business Awards®, the Stevie Awards for Great Employers, the Stevie Awards for Women in Business, and the Stevie Awards for Sales & Customer Service. Stevie Awards competitions receive more than 12,000 entries each year from organizations in more than 70 nations. Honoring organizations of all types and sizes and the people behind them, the Stevies recognize outstanding performances in the workplace worldwide. Learn more about the Stevie Awards at https://stevieawards.com/.
Sponsors of the 14th annual Stevie Awards for Sales & Customer Service include HCL Technologies, Sales Partnerships, Inc., and ValueSelling Associates, Inc.
About UJET
UJET is propelling customer service into the modern age. Our cloud-native and smartphone-centric platform empowers contact center professionals to create intelligent workflows, unify data and make it actionable, and create a modern and scalable business model where the next-generation tools and technology they need to create an immersive, engaging, and one-of-a-kind experience for their customers. UJET is trusted by customer-centric, innovative enterprises including Google, Instacart, Green Dot Corporation, Wag!, and iZettle, a PayPal service, to automate contact center processes and provide superior experiences that drive higher customer satisfaction.
Learn more and request a demo at ujet.cx. 
Media Contacts
Jason Sophian
Head of Communications, UJET
jason@ujet.cx