Improve the IVR Customer Service Experience with AI
by UJET Team | 
An interactive voice response (IVR) system is a phone system that directs incoming calls through your company's customer support system. IVR is a great tool for routing calls, but only if it's designed correctly.
Set up your IVR menu well and your customer experience will flourish. Set it up poorly and you'll have a swarm of angry customers and a diminishing customer satisfaction (CSAT) score.
In this article, we'll cover the pitfalls of IVR technology (what you need to avoid) and how to set your IVR telephony up for success. Plus, find out why conversational AI is the future of IVR and contact center operations.
The Problem with a Poorly Structured IVR Menu
Poorly structured IVR menus create terrible customer support experiences, kill your CSAT score, and destroy your revenue. In fact, a recent study conducted by Qualtrics and ServiceNow revealed that 80% of consumers have switched brands because of a poor customer service interaction.
We've all experienced a poorly structured IVR menu. You call customer service with a very specific problem and have to suffer through disorganized qualifying questions that are completely unrelated to your query. So you connect to any queue (or persistently press 0 on your keypad) in a frustrated attempt to speak to a live agent. Then, when you do finally speak to someone, that agent can't help you—and you have to start the process all over again.
Generic IVR tools waste your customer's time and increase callbacks (because your customer is unsuccessful in finding a solution the first time. Or the second. Or sometimes even the third.)
And the problem isn't confined to either keypad or voice recognition IVR tools. Both systems can be riddled with problems.
Touch-tone IVR that leverages a caller's phone keypad is prone to longer wait times because a caller may have to listen to multiple unrelated options before they hear one that works for them. Or worse, there might not be an option that pertains to their problem at all. 
The physicality of touch-tone IVR systems is a pain, too. If a customer is driving, eating, or trying to multitask (which many are) while calling customer support, they don't want to have to scramble to pull up their cell phone keypad and then intermittently press numbers.
IVR tools with voice recognition are prone to misunderstandings. If your speech recognition capabilities aren't robust, it's not likely to connect customers to the right agent—especially if the caller has an uncommon request, a unique speech pattern, or a thick accent.
But IVR solutions aren't all bad. In fact, when IVR systems are set up correctly and run from a robust CCaaS platform, they're very effective.
How to Design Exceptional Experiences with IVR Call Center Software
Exceptional cloud IVR designs make it simple for customers to find solutions, whether it's by connecting them with a self-service option or to a specialized agent. Here are five ways to create an exceptional IVR experience:
Identify your most common customer service requests and provide quick access to solutions for these queries.

If you own a monthly subscription service, for instance, and a significant portion of your calls are from customers who want to skip a month, you should add "skip your next delivery" as an IVR menu option.

Ask specific qualifying questions, but respect your customers' time. Qualifying questions are helpful for gaining context and connecting your customer to the correct agent quickly, but asking too many questions before offering a solution will negatively affect your customer experience.
Choose a CCaaS platform with robust voice-recognition capabilities.

If you're designing an IVR tree with voice recognition, make sure it is robust enough and has enough customer data to understand customer statements. Since not all people explain problems in the same way, voice recognition needs to be able to understand the context of the problem and transfer customers correctly.

Optimize your IVR tool with user segmentation.

Say, for instance, you own a ride-hailing app, and you receive customer service calls from two distinct customer groups with very different needs—drivers and passengers. By integrating your CCaaS platform with your customer relationship management (CRM) tool, you can easily route these two different

customer personas

to different queues, speeding up resolution time across the board.

Use different phone numbers to connect customers to different points in your IVR menu.

Offer a general help phone number with self-service options, and use additional phone numbers to route calls to appropriate queues. If a customer has a billing question, for instance, they could use a different number to automatically connect with your billing department.
The most important factor to consider when setting up your IVR is who you partner with. Old-school legacy systems just don't have the power or data synchronization capabilities to support seamless user segmentation. And they can't deliver the level of voice recognition that modern consumers expect. You need a CCaaS platform, and you need one that unifies with your CRM (customer relationship management) tool.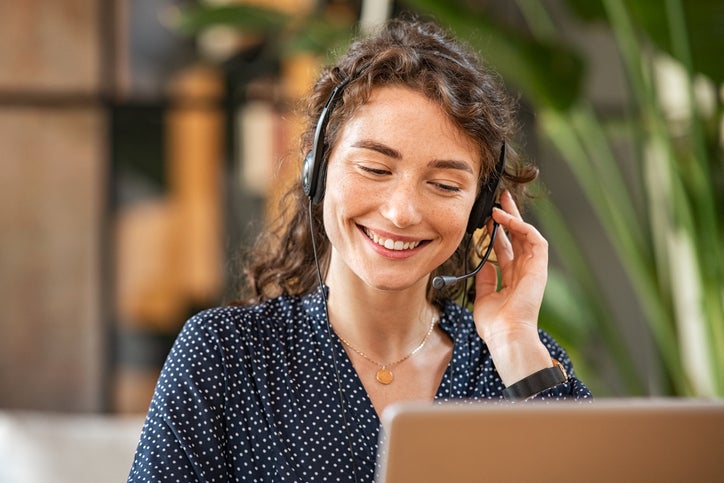 UJET's Cloud IVR Contact Center Solution Uses AI to Improve Customer Satisfaction
At UJET, we specialize in creating exceptional customer service experiences. Our CCaaS platform unifies all of your customer data within the CRM, which gives your IVR tool the power to identify key qualifying factors from your customers' historical data and quickly direct calls to the appropriate agent or self-service option.
The more you learn about your customers (or as those customers' needs evolve), you can easily update and improve your UJET IVR menu. After partnering with UJET for their cloud IVR system, Zettle by PayPal saw a 10% increase in CSAT scores and was able to reduce agent training time by 50%. 

"We were especially impressed by their demo of UJET's intelligent call routing – that is a feature Zettle was looking for." said Johnnie Hydling, Head of Customer Engagement Operations at Zettle. UJET's intelligent routing logic enables contact center supervisors to segment customers reaching out by phone or chat, so they can connect them with the agents most qualified to handle their requests.
Conversational AI Is the Future of IVR Customer Service
Now that you understand what it takes to create a great cloud IVR menu, here's how to improve it even further. To truly modernize your call center (and create a next-level customer experience), you must leverage artificial intelligence (AI). Here are just some of the next-gen benefits you get when you integrate AI into your contact center:
Predictive Routing: When a customer calls in, AI automatically identifies their customer segment by cross-referencing their phone number with their profile in your CRM. AI then combines this historical data with the customer's answer to qualifying questions and routes their call to the appropriate self-service option or agent quickly and efficiently.
After-Call Work Automation: AI-enabled contact center features like UJET Agent Assist handles time-consuming post-call tasks for your live agents, so instead of copying notes, they can start helping another customer. And that's not all: AI also provides agents with real-time and historical customer data all in one convenient dashboard before they start a call, so customers don't have to sit through awkward silences while an agent pulls up their account details.
Agent Assist: UJET Agent Assist uses natural language processing and real-time call monitoring to provide human agents with continuous support during their calls and chats. AI can identify customer intent and sentiment, and can also provide real-time, step-by-step assistance in the form of documentation, suggested answers, and more.
Automatic Traffic Reallocation: AI monitors call volume (as well as traffic on other platforms) and is able to reassign agents as needed. Say, for instance, you own a dog-walking app. You currently have twice as many inbound calls from dog walkers as you do calls from pet owners. AI would temporarily reassign agents to the longer queue to cut down on overall customer wait times.
These are just a few of the many benefits you get when you incorporate practical AI into your contact center.
Modernize Your Contact Center with UJET
UJET offers an array of IVR and AI call center features. Whether you want to improve your IVR menu, leverage your customer data to improve your customer experience, or go beyond omnichannel to deliver a more modern experience for your customers, we've got you covered.  Book a demo to learn more about the benefits of UJET Cloud IVR.